Trip Report
Mount Kaputar - Monday 20 February 2017
Kerry put on another great camp/walks etc and we did some magnificent walks.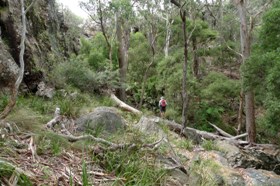 2 new exploratory walks,  one under the eastern cliffs & lava flows of Mt. Lindsay, which I have called it the Fern Grotto walk (see photo), plus a shorter walk along the top of a lava terrace between the Barraba track and Mt. Lindsay walks, this one includes the Blowfly & Wombat caves - both a must for our next trip.
After the 6pm storm on Saturday  - a great lightning display, some small hail and pelting rain, which only lasted about 30 minutes or so then sunshine again  -  this was enough rain to entice the famous Mt Kaputar 'Pink Slugs' (see photo) out of its hiding spots. A must see for those who have not seen them.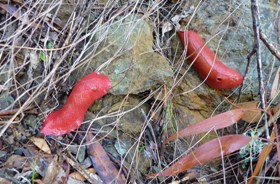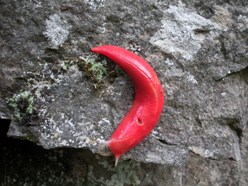 On the way home we visited the Deriah Aboriginal Area again and did a short walk (see photo) - a very interesting area.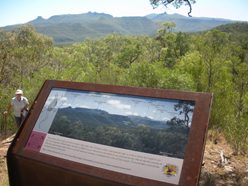 Report by Neta Horniman
TRIP REPORT - MOON WATCH
Sunset Moonrise at Mt Borah - Saturday 11 February 2017
9 participants, 6 members and 3 visitors (1 was international). Sunset was good, lots of cloud on western horizon giving colours yellows, oranges and pinks.
Due to high temperatures no one walked up the mountain. It was still 32°C at 8pm (following a 38°C day).
Moonrise was not quite as good because cloud blocked the first 5 minutes of viewing, but it soon shone bright afterwards.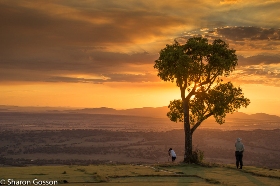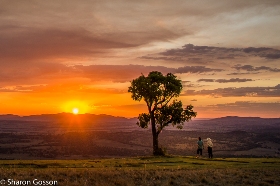 Some nice drinks and nibbles followed by a few cool ales and wine. A good evening had by all including our welsh visitor, John. We departed about 9 pm.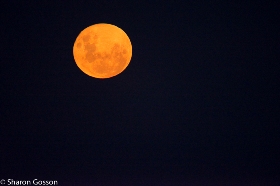 Photos contributed by Sharon Gosson
An evening we could repeat on 9 or 10 June 2017. Friday 9 June is full-moon.
Report by Kerry Lowe
KAYAKING REPORT
Chaffey Dam - Tuesday 6 September 2016
A quick weather check and seeing it was good for kayaking a split decision was made by Neta to go.
Making a couple of quick phone calls and said that I would be at Chaffey and ready to go by 10am. As luck would have it 5 people managed to make it by 10am being Neta, Bob, Chris, Rob and Todd.
I was pleasantly surprised by the height of the dam, with grass right to the water edge and no mud! – though there was a bit of floating debris on the edges.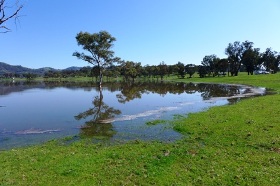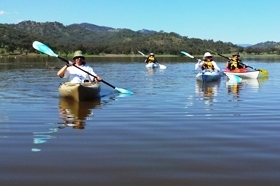 We launched back at our old spot closer to the Peel inlet all keen to go upstream to see how far we could go. We easily made it past the concrete bridge and several adventurous souls made it up a couple of fast flowing rapids. (It was the furthest I have ever been able to kayak.)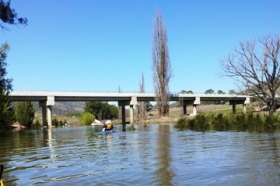 According to calculations we paddled over 7.5 ks and the 'adventurous' ones would have done at least 8ks.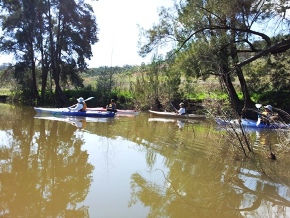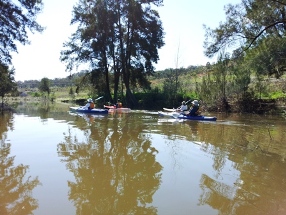 All in all it was an excellent warm day, little to no wind and very good company. A must to do again while the water is still running in.
Neta H
TRIP REPORT – MT KAPUTAR
Mt. Kaputar camp/hikes 17–20 January 2016.
Mt. Kaputar was the place to go camping/hiking during the hot January weather as it was a good 10 deg cooler - cool enough to wear a short sleeve thermal during 2 of our nights & mornings.
On arrival @ Dawsons Spring around 10 am – had morning tea then set up camp, after a short wait for our good site to be vacated - had lunch, rested & read a little followed by a walk to Mt. Kaputar Summit – excellent views on a very clear day with a gentle breeze blowing – spotted a small bushfire near Upper Horton before heading back to camp we continued on to explore part of the Bundabulla Circuit past Eckfords L.O and Mt. Dowe – the thought of a good red wine, cheese & biscuits followed closely by 2 lovely pieces of fresh salmon & salad enticed us back to camp. Yum!
Day 2 - up fairly early after a lovely cool/clear night and a good walk from camp to West Kaputar Rocks, where we spotted a Kestrel working the air currents up the cliff line, then headed cross country to the Look Out – Views from the cliff tops were spectacular – most of the Northern Peaks clearly visible. We continued onto The Governor with great views to the Sth & West (a good spot for some morning tea) On the way back we spotted some smelly goats plus a black snake.
Back in camp, in time for lunch, we were entertained by some cheeky white browed scrub wrens, another rest & read then quick dinner before heading to Lindsay Rocks to view the sunset, watch the Moon & Stars come up – spotted 4 Satellites & the International Space Stn.
Day 3 – Drove to Coryah Gap & walked to Mt Coryah Summit, via a fantastic L.O. - great views to over most of the park + 2 W.T. eagles catching the thermals – Found an old sign from days (25 + years ago) when the track came up the ridges before new tracks were constructed from Coryah Gap. More smelly goats seen on way down.
Back to camp for lunch & a lazy afternoon of socializing, reading and resting. A couple of Scotch fillet steaks on B.B.Q. was on the menu, cooked to perfection on Kez's gas burner & skillet.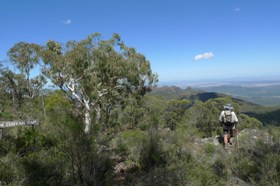 ;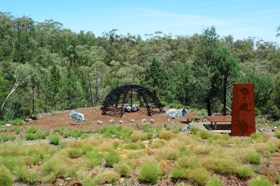 Day 3 - A decision to leave today so we could, pack up while all our gear was dry & go and explore the new Deriah Aboriginal Area, which is off the Eulah Ck Road (on the way back from Kaputar) – A newly created picnic area (with (excellent) shelter shed, toilets & B.B.Q – but no camping) – Some great metal sculptures depicting brush turkeys & their stylised nests & other animals. A short walk to a Look Out gives good views back to the N.P., Yulludunida & Nigadhun etc. A special area because it has an endangered ecological community containing many rare plants including Ooline trees (a remnant rain forest species) Quinine bushes, green Mallee's and many others. - well worth a visit in the cooler months & hopefully get to camp on a nearby property so we can explore the surrounding area.!
A good trip back to a very hot Tamworth & now wished we had stayed another day. Kerry & Neta.