The general community sees bushwalking and hiking as a great, popular, informal outdoors activity.  However, bushwalking is under-recognised as an organised club activity.  Club bushwalkers continue to explore new territory in the extensive bushland of NSW and the ACT.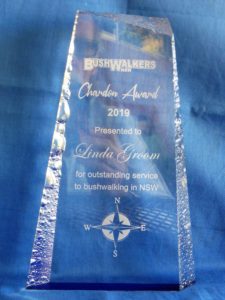 Bushwalking NSW (BNSW) has introduced the Chardon Award (named after Harold Chardon, the first Secretary of BNSW in 1932) to recognise bushwalkers who have made a significant contribution to the bushwalking movement.  Thus, awardees would be BNSW Club members who have also played a significant role within Bushwalking NSW.  There is no shortage of bushwalkers who deserve to be better known. The aim, over time, is for the Chardon Award to progressively recognise a range past and present bushwalkers.
The first bushwalkers to be awarded were announced at the Bushwalking NSW Annual General Meeting held at Glenbrook National Park in August 2017. Future names will be added at each subsequent AGM of BNSW.
Harold Chardon was a public servant, surf life saver, great conservationist (part of the Blue Gum Forest campaign and much more), probably a Colonel in the AIF of WWII and a President of Sydney Bushwalkers.  He was invited to join the Mountain Trails Club in 1930.  As a walker he was a "Tiger Walker" of Sydney Bushwalkers.  With the "Orang Utang" Wally Roots he was one of three to go down Orang Utang Pass into the Grose Valley.  Born in 1905 he married fellow bushwalker, Win Lewis in 1936. Harold died in 1993.
Nominations
While Bushwalking NSW has a range of possible future awardees it welcomes nominations from its member clubs. Please remember the most important criteria: Being well known in their own club is a given, and the walker must have added to bushwalking through involvement in Bushwalking NSW.  To nominate someone send their, and your details to the Bushwalking NSW Secretary at secretary@bushwalkingnsw.org.au
Awardees
2023 Leonie Bell
Leonie has been nominated for the Chardon Award for her longstanding volunteer work on the Bushwalking NSW website. When the committee set aside some money and commissioned David Morrison to project manage a new Bushwalking NSW website in February 2014, David called for volunteers to help write the content. Leonie stepped forward to assist.
The website would have three aims: First to provide communication with member clubs, second to promote bushwalking and club membership to people considering engaging in the sport, and third as the state's peak bushwalking organisation, to be the go- to place for accurate and current information about bushwalking. Once the website was launched Leonie was asked to update the content as required, adding or updating information, and writing new pages as required. The website is much larger today and more comprehensive when than it was launched. She continues to update the website today.
Leonie first became interested in bushwalking in 1991 when she joined Sydney Christian Bushwalkers. When she moved to the UK the following year, she became a walk leader in her local walking (rambling) club, which was part of Britain's largest walking lobby group the Ramblers Association. When she returned to Australia in 2000, she rejoined Sydney Christian Bushwalkers, where she is now President, and joined Sutherland Bushwalkers. She served on the committee in the positions of Newsletter Editor, Vice President, and President, and is currently part of the Program Team.
Leonie loves researching and writing local history. She authored Sutherland Bushwalkers 50th Anniversary history and an e-book, 'Lost in the NSW Bush.'
2023 Keith Massie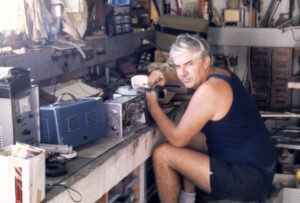 Keith Massie was a great ally of Bushwalkers Search and Rescue (S&R).  Keith was a proud technician of Telstra, who eventually ran two telephone exchanges in western Sydney.  He was a character who served S&R in many ways with his great technical skills.
Keith was the catalyst to introduce the second generation of HF radios for S&R.  The photo shows Keith in his element repairing the base radio from the first generation of S&R radios.  By today's, standards these radios were primitive but a great step forward when radio communications in outdoor S&R were mostly non-existent. The Codan base radio of 25 Watts and the Traeger field radios were a game changer.  After initial hiccups our S&R bushwalkers were able to walk and communicate to S&R HQ.  Obvious, these days but not easy to achieve with the long wavelength HF frequency so effective in bush search.
Keith used his excellent technical skills to maintain other S&R equipment.  Early Range Rovers had some 'dicky' problems that Keith fixed on his own vehicle.  His green Range Rover became a fixture at S&R Callouts as he towed the four-wheel S&R trailer to these events.
The loss of Cessna 210 (VH-MDX) in August of 1980 in Barrington Tops remains a mystery.  Keith did serious research on the ground for preliminary searches of S&R.  Today, Bush Search and Rescue (of NSW SES) do an annual exercise to continue the search and train in  tough conditions.
Keith also encouraged a friend, Mark de Havilland to join S&R who later became the Transport Officer for S&R.
Keith's proud record of service to Bushwalkers S&R ran from 1977 to May 1982 and worthy of remembering with the BNSW Chardon Award.
2022 Caro Ryan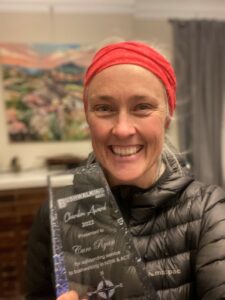 As a self-confessed late starter to bushwalking from 2001, Caro Ryan has spent over 20 years committed to 'connecting people to bushwalking in meaningful ways.' As a member of Sydney Bush Walkers Club, she has led so many trips, served on the committee and promoted membership, that she was awarded an Honorary Life Membership in 2016. Caro is an enthusiastic volunteer member of SES Bush Search and Rescue (BSAR) and has both a Certificate III & IV in Public Safety for Rescue and SES Leadership.  Currently, she is a Deputy Unit Commander (responsible for the Blue Mountains and west to the SA border) and has been the BSAR Search Commander for a number of high-profile searches. Her role extends to media liaison, where she has represented SES BSAR in print, TV and radio. The Rooty Hill HQ of BSAR is located on land that Caro identified (and lobbied for) as vacant Crown Land. She received the National Medal for service to Land Search in 2021 and also holds the VRA long service medal.
In 2012, she used her professional video and communication skills to establish LotsaFreshAir – a website, social media and YouTube channel to promote bushwalking how-to's, inspiration and encouragement, designed to draw people into bushwalking, safely. Her book How to Navigate – The art of map and compass navigation in an Australian context is now used as a reference by NSW SES, NSW Police Rescue and many outdoor educators, and she runs courses on map and compass navigation. There are numerous occasions where Caro has been a speaker / writer / representative of BNSW at outdoors conferences / magazines / events / media.  Too many to mention.
Caro Ryan is a worthy recipient of the BNSW 2022 Chardon Award as a role model in promoting safe and responsible bushwalking and outdoor adventure.
2022 Ninian Melville (1907 – 1986)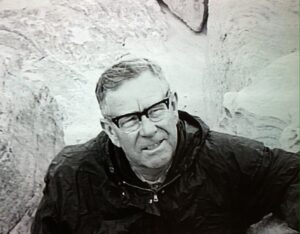 Ninian (aka 'Nin') made an impressive contribution to bushwalking in NSW through mapping, forming clubs (yes, plural), holding senior positions in Bushwalking NSW (BNSW) plus long involvement in Search & Rescue (S&R). From CMW records we know that Nin trained as a Civil Engineer and survey draftsman.  On 14 February 1934 Nin formed the Coast and Mountain Walkers (CMW – still going strong today.) In the early years he served as Club Manager as there was no secretary.  Later while based in Newcastle, he established Newcastle Bushwalkers, another current strong club of BNSW. Among the maps Nin helped prepare were the Port Hacking District Tourist, Colong Caves, Megalong Valley, Cox River and Narrow Neck Peninsular plus numerous one day walking maps for the Railways Department.
As a Major in the AIF of WWII, he was heavily involved in locating war graves throughout the Pacific islands.
In 1936, Nin was a foundation member of S&R who, after Paddy Pallin, served for many years as Field Organiser (Field Officer) and Director.  During his service S&R obtained its first HF radios (BSAR still uses HF radio today for effective remote area communication) and did some big rescues in the Kanangra Gorge.  (Today, helicopters would do the retrieval).  In 1974, Nin received the British Empire Medal (BEM) for services to S&R. Nin filled several important roles within BNSW including President and Vice President.  He was sorely missed by CMW when he died in 1986.
2021 Keith Maxwell – National Medal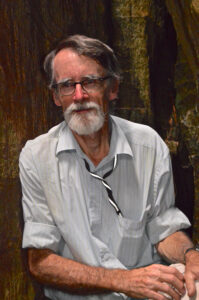 Keith has been bushwalking since his first walk with the YMCA Ramblers in 1969. For much of this time he has also been involved with Bushwalkers Search & Rescue (the Search & Rescue Section of Bushwalking NSW (BNSW) now the NSW SES Bush Search and Rescue unit – BSAR). It was in the Ramblers (like so many other bushwalkers) that he met his wife Rosemary.
Keith has done multiday walks in Tasmania, New Zealand, the 'Snowies', Victoria, Blue Breaks and Northern Blue Mountains. So, he has also climbed mountains in Tasmania and all mainland States including NT and ACT.
Before children he was also active in Sydney University Bushwalkers (SUBW) where he was involved in exploratory trips of the Northern Blue Mountains and their canyons. The Kanangra Boyd National Park has seen many visits from Keith including its major canyons plus the "Three Peaks" in 48 hours. Keith (often with Rosemary) has also done weekend walks in many of the fabulous National Parks that surround the Sydney area.
In 1977 after many years as a bushwalking volunteer, who had attended many emergency incidents for Bushwalkers Search & Rescue, he was invited to join their organising Committee as a Field Officer (search teams organiser). In 1984 he was appointed as its "Director". Thus, as an Office Bearer to BNSW he continued his involvement as a Committee Member of BNSW until 2020. He is now their Honorary Historian.
The nature of search and rescue changed considerably over the years to 2001 so Bushwalkers S&R was incorporated by Keith as a separate body to BNSW with Keith as its President. In 2018 Keith was part of a leadership team that moved BSAR from the NSW Volunteer Rescue Association (VRA) into NSW SES as their "Bush Search and Rescue unit" For many years he was also accredited in VR (vertical / cliff rescue).
An important role that Keith has encouraged, from his position in Bushwalkers S&R, is bushwalking safety and spreading First Aid knowledge within bushwalking clubs. In 1988 Bushwalkers S&R Secretary, John Tonitto and Keith established the annual NavShield as a map & compass remote area navigation exercise for bushwalkers and emergency services. 'From humble beginnings' it has grown to have over 500 participants each year. Keith holds a Certificate III in Public Safety (SES RESCUE)
The National Medal recognises long and diligent service by members of recognised government and voluntary organisations that risk their lives or safety to protect or assist the community in enforcement of the law or in times of emergency or natural disaster. Keith received the National Medal in 2007and a clasp to his medal in 2021.
For many years Keith has had an interest in early Australian 20th century history and the back stories of WWII.  In 2014 Belinda Keir encouraged him to place Splendour Rock on the register of NSW War Memorials. Thus, research on Splendour Rock naturally followed.  Also, his long association in bushwalking meant he had gathered unique knowledge about Splendour Rock and its plaques that should be shared.  He finds it hard to tire of the walk through the Wild Dog Mountains to Splendour Rock.
Keith is currently a member of the Bush Club, Upper Blue Mountains BWC plus Secretary of Cumberland Plain Walkers.
Photo by  Emanuel Conomos
2021 Brian Harvey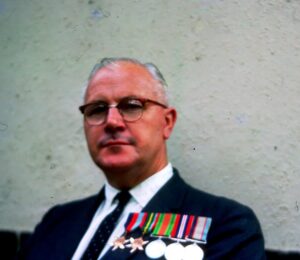 Brian Harvey is worthy of being remembered via the BNSW Chardon Award for 2021.  He made a significant contribution to his club and adopted country plus had a strong association with Splendour Rock, the bushwalkers war memorial.
Brian was born on 15 March in Dublin, Ireland but by 1936 had joined Sydney Bush Walkers (SBW) where he enjoyed their company, particularly of a fellow strong walker, Jean Caroline WEST.  In 1938 Brian and Jean were involved with the publication committee for the club magazine.  On 1 December 1939 Brian enlisted in the RAN with next of kin (NoK) as "wife", Jean Caroline which was eventually true after 1942.  He continued in SBW after his demobbing on 24 May 1946 to eventually serve as SBW President from March 1956 to March 1958.
The selection of Splendour Rock for the memorial plaque was not obvious.  Initially, a memorial park was proposed for Narrow Neck.  Discussion raged across the clubs but in many ways Brian was the 'midwife' to establishing the memorial plaque at the southern end of Mt Dingo of the Wild Dog Mountains.  From 1948 onwards Brian encouraged bushwalkers to attend the Dawn Service on ANZAC Day at Splendour Rock.  "Honorary Life Membership" of SBW was conferred on Brian in October of 1995.
Jean and Brian had a long life together with Brian dying in March of 2003 and Jean passing on in November of 2004.
2020 Belinda Keir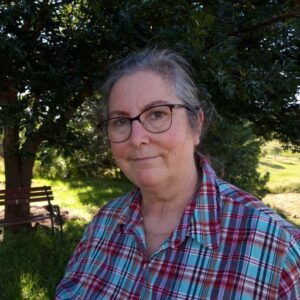 Belinda has made a serious contribution to safety of bushwalkers from years of volunteer instruction in St John Ambulance First Aid to members of Bush Search and Rescue NSW (BSAR), bushwalking clubs, Scouts and the general public. She has also served as a First Aid Officer at BSAR NavShield since 2003.  As such, she was an important part of the safety team that included NSW Ambulance Paramedics. Belinda has instructed First Aid both at Senior / Provide First Aid and Remote Area standard for many years and continues to teach on behalf of St John Ambulance. Belinda's practical teaching methods have helped to raise the level of First Aid knowledge within bushwalking clubs and made bushwalking a much safer activity as a result of this training.
Belinda's  journey with training bushwalkers in first aid began her participation participating in the Duke of Edinburgh's Award as a "lone participant" after she graduated from university in 1983. At that time she was already a member of Sutherland Bushwalking Club, and the Award made her take things one step further. She went from being a walk participant to a walk leader for the club, and  joined S&R during 1980s, for the "service" component of the Award, becoming an enthusiastic Search and Rescue volunteer responding to many S&R callouts. She still has her record book, showing she participated in searches and undertook first aid training in 1984 and 1986. Back then Grace Matts from Cave Rescue used to run the first aid courses for bushwalkers, and she encouraged Belinda to become a St John trainer.
There was a gap in the middle that involved having kids and moving about, but a chance meeting with Keith Maxwell of BSAR about 18 years ago got her "back in the fold". She was first-aider at Navshield, starting with the Gardens of Stone event, and soon took over training bushwalkers with St John Ambulance. Having children led her to involvement with Scouting, where she joined the Scouts NSW Division of St John Ambulance NSW, allowing her to run joint Remote First Aid courses for Scout Leaders and bushwalkers.
2020 Brian Walker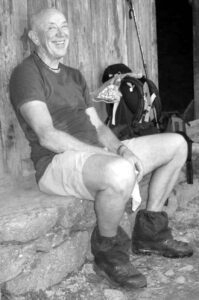 Brian Walker was a past Public Officer, Secretary and President of The Confederation of Bushwalking Clubs NSW, contributing significantly to the organisation which became Bushwalking NSW. He passed away in August 2005 at the age of 70. He was a long-time active member of Coast and Mountain Walkers, where he also served as Secretary. He was renowned for his strength and physical fitness, particularly as he carried prodigious loads of photographic equipment on bushwalks, together with culinary delights to consume around the campfire while he entertained with a song or two of Gilbert and Sullivan or told one of his fascinating stories.
2019 Linda Groom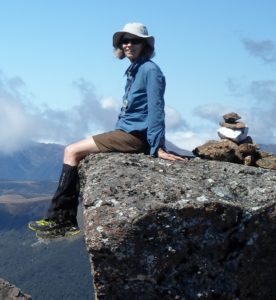 Linda comes from a Queensland bushwalking family who studied at the University of Queensland before moving to Canberra around 1975. Since then, she has been a very active walker in Canberra Bushwalking Club where, among other things, she has served two terms as President but now is the current Walks Secretary. She has been honoured with life membership of CBC.
So, Linda is well recognised within CBC, but now Bushwalking NSW wants to recognise her for a contribution to bushwalking with the Chardon Award. Many bushwalkers will be well aware of the impact of feral horses in the Snowy Mountains. The difference is that Linda sought to raise awareness of this damage by a long bushwalk. She was the driving force in a highly publicised event where walkers went from Sydney to Kosciuszko National Park. Bushwalkers from towns along the route would join her for short sections to swell the numbers. Along the way these walkers spoke to the general public and where possible local MPs about the impact of feral horses in the Snowy Mountains. She presented a report of this walk as the guest speaker at the November 2018 General Meeting of BNSW. This was her second visit as a guest speaker when she spoke of exploratory bushwalks in Central Australia. A remarkable achievement and definitely worthy of recognition with this award.
You can see a report and video on the Save Kosci Protest Walk 2018 here.
2019 Jim Callaway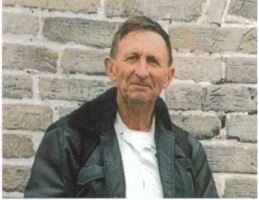 A tribute by Keith Maxwell
On 30th January 2018 my wife and I represented BNSW at a Catholic Church in Engadine for a Mass of Thanksgiving for Jim Callaway.  We joined many other bushwalkers for this memorial service.  Over many years we had known Jim as part of Bushwalking NSW (BNSW) but he eventually also became a good friend.  During his time of distinguished service to BNSW he represented the Catholic Bushwalking Club and Sydney Bush Walkers.  In his prime, as a bushwalker, he was known to avoid tracks to go off track at a pace that dubbed him "tearaway Callaway".
From newsletter archives of BNSW I can say he was Treasurer from 1978 to 1987.  He kept a tight rein on finances as BNSW had an historically low affiliation fee.  In 1992 he was Public Officer for the very new Confederation of Bushwalking Clubs (now BNSW).  Before serving as President in 1998 & 99 he was the 1997 Vice President, a role he took up again from 2000 to 2004.  Records from 2004 are less clear but until the end of 2014 he was continuously on the Management Committee of BNSW (while living at Heathcote; true dedication)
Jim Callaway is definitely worth remembering as a special bushwalker since he gave more to bushwalking than bushwalking gave to him.  On behalf of BNSW I would like to say thank you for your dedicated service to BNSW.
2018 Gordon Lee (d.2017)
Gordon Lee was an active member of Sydney Bush Walkers who gave many years of faithful service to BNSW. Committee lists in old 'Bushwalker' newsletters are a great way to confirm service to Bushwalking NSW. From recent research of archived newsletters, Gordon may have set a record as President of BNSW in consecutive years from 1982–1992. Overlapping this leadership service is his time as Editor of the 'Bushwalker' from 1988 to 1993. Presentation of the revived 'Bushwalker' left a lot to be desired. Its foolscap size and layout now appear very ratty – see the Bushwalker archive on the BNSW website. Gordon greatly improved the presentation of the magazine by using a modern word processing program, 'Word Perfect', to produce a smart black and white publication at A4 size. Read more on the creation of the Bushwalker here. During this time Gordon was also an active volunteer within the Search and Rescue Section of BNSW; now BSAR.  Gordon also had an extra non-bushwalking skill he put to good use. As a violinist / fiddle player in a Blue Grass band, he played in the band at then popular annual Bushwalkers Ball. Unfortunately, Gordon died in late 2017.
2018 David Noble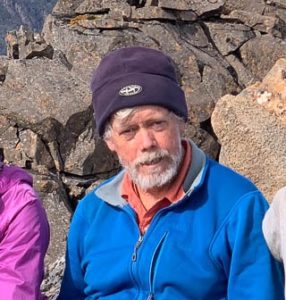 There is a quirk in the bushwalking movement with two David Nobles. The younger NPWS Ranger, David Noble is well respected as part of the team that found the prehistoric 'Wollemi Pine' in a remote part of the Northern Blue Mountains. He may have been inspired to go exploring after the other David Noble started looking for canyons off Newnes Plateau and further into the Northern Blue Mountains. Initially, David, as an active member of SUBW and Springwood BWC spread this knowledge with hand drawn maps (just some of many maps from other exploration) in articles published in the magazine of the (now defunct) Kameruka Bushwalking Club (KBC). David was BNSW President in 1979 and 'Bushwalker' Editor in 1980.  In accepting this award David spoke of his passion for bushwalking from his earliest trips around HSC time. He also spoke of the difficult time when he accepted the presidency. 'Federation' as it was then known was unincorporated and being sued for libel by a mine owner of Jones Creek in the Ettrema region. The previous President had taken the prudent path of resigning since Office Bearers could be personally liable.
2017 Wilf Julius Hilder (1934 – 2011)
Julius Wilfred Hilder, known to all as Wilf, was BNSW President multiple times including 2001, 2002 and 2003. A sad fact is that few meetings are ever entertaining. However, BNSW Committee members used to enjoy Wilf's  'Tracks and Access Officers' reports at BNSW Meetings. Never written or scripted, Wilf would draw on his vast knowledge of the Blue Mountains and his time in the Geographic Names Board (of the Lands Department) to weave wonderful stories. Of course, they were never concise either, but just a joy! Wilf was a bushwalking historian who readily shared his knowledge with other researchers. Wilf pushed for the walkers right of way through restricted land around Warragamba Dam from Medlow Gap to Mt Cookem. His funeral was also well attended by Masons, as Wilf was one of their senior members. Read more about his fascinating life in his obituary in the Sydney Morning Herald 13 August 2011, page 20.
2017 Dodie Green
The Chardon Award was never intended as a long service award. She is still a highly active member of Yarrawood Bushwalkers. Dodie has shown that a young person can make a difference to bushwalking. As the Confederation (now BNSW) President during 2010, 2011 and 2012, she brought tremendous youthful enthusiasm to the task of driving Confederation forward. Bushwalking in clubs is a great way to enjoy the outdoors.  The selection committee saw Dodie as a great role model for younger bushwalkers to further this great activity.