A weekend walk through the Gardens of Stone lead by Keith Muir
It was an easy start to the weekend staying Friday night at Keith Muir's place in Katoomba and then being driven to the car shuffle and then to the start of the walk.
We started walking on broad fire trails that passed through unspectacular heath on the Gardens of Stone State Conservation Area not far from Lithgow. However, before long Keith and the others stopped at a large rock on the side of the road which gave a view over an amazing valley. We were looking down over a huge canyon-shaped valley lined with intricate pagoda structures. The Lost City. It truly was reminiscent of an ancient city with each pagoda-shaped 'tower' with its rounded 'head' and ironstone fenestrations.
We walked down the hill into the valley and the view of the Lost City just got better. As we got up close to the structures you could see the sandwiched layers of ironstone and sandstone. With the sandstone weathered away leaving the ironstone jutting out.
In places the ironstone was twisted and curled up making even more beautiful structures.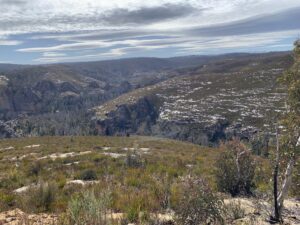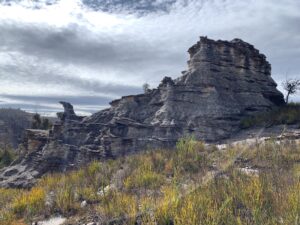 We walked through the valley floor which was filled with beautiful bush before Keith identified a ridge which we could climb to reach our campground. The climb was a steep scramble at times and we needed to find our way around some rock formations but we made it without a hitch. Keith really knows this area well.
We walked across the plateau and then climbed up more pagoda formations. Getting close enough to the pagodas to climb them makes you super aware of how fragile they are. The ironstone layers that jut out and give the pagodas their intricate decoration are unsupported and easily break off. We were extra careful with every step to be sure we didn't break off rock as we climbed.
After admiring the view from the top we headed across the plateau to our campground in a lovely clearing near a water soak. We enjoyed our meals around a campfire and headed to bed early to get a good rest.
On the Sunday Keith lead us on a circuitous route through another canyon-like valley surrounded by pagodas. The bush was beautiful and we all enjoyed our lunch beside a beautiful pagoda. We then walked out to the car shuffle car with no trouble.
I'm so grateful to Keith for showing me this precious part of the world. Having seen the pagodas from afar and up close, and having seen how fragile they are, I am inclined to write to NPWS and ask that they:
ban people from walking or climbing the pagodas of the Lost City, and
develop walking tracks that pass close by the pagodas so people can enjoy them.
If this area is opened up to mass tourism, with people allowed to climb the pagodas, I can see their delicate ironstone protrusions getting snapped off until there are no more protrusions giving the pagodas their delicate filigree-like decoration. Surely we need to take care of these delicate structures to the next generations can enjoy them as we do.
Have your say on Facebook or by email to admin@bushwalkingnsw.org.au.