The Chardon Award was established in 2017 to recognise bushwalkers who have made a significant contribution to bushwalking or Bushwalking NSW (BNSW).  They had to be more than well known in their own club.
Harold Chardon was the bushwalker in 1932 who called the bushwalking clubs together to form the (now) BNSW as part of the campaign to save Blue Gum Forest.
The pattern each year has been to recognise a past bushwalker plus a very much alive bushwalker.  Hence, two bushwalkers were recognised with the 2020 Chardon Award at the Bushwalking NSW (BNSW) AGM on 18 August.  See the notes below for comments on these worthy recipients; Brian Walker and Belinda Keir.
BRIAN WALKER
Snippet from the Bushwalker – Vol. 32 #2 Autumn 2006
The above drab comment that Brian Walker was at least Secretary (1991) and President (1996) of Confederation does not give credit to the energy he brought to Bushwalking NSW (BNSW).  As Public Officer the NSW Federation of Bushwalking Clubs became "Confederation" inc (incorporated, with the legal role of obligations and safeguards that brings).
In 1993 Brian excited Sydney newspapers from his sighting of a missing light plane across a valley in Kanangra Boyd National Park.  "An Eventful Weekend" (of this find) was the lead story of the November 1993 (Vol. 19 # 2) Bushwalker newsletter.
My last memory of him is on the exit of the Harbour Bridge when he went by on a recliner bicycle in a 'Sydney Cycle' event.  A cheery hello as always.  He was a friend to many in Confederation and his sudden passing left many walking friends in shock.  Shortly afterwards CMW held a wake in his honour at a member's holiday cabins in Blackheath.
Brian Walker is a worthy recipient for the 2020 Chardon Award to honour his memory.
BELINDA KEIR
Belinda Keir has made a serious contribution to safety of bushwalkers from years of volunteer instruction in St John Ambulance First Aid to members of Bush Search and Rescue NSW (BSAR), bushwalking clubs, Scouts and the general public.
From 2003 onwards she has also served as a First Aid Officer at BSAR NavShield.  As such, she was an important part of the safety team that included NSW Ambulance Paramedics.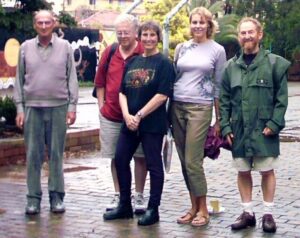 Belinda is a past active member of Sutherland Bushwalking Club and was an enthusiastic S&R volunteer during 1980s.  Hence, she responded to many S&R Callouts.  At that time Sutherland BWC was a strong supporter of S&R and would often supply a team of strong walkers whenever NSW Police had asked for assistance.  Through this volunteer service Belinda also become a good friend.
Belinda is pictured at centre with members of Sutherland Bushwalkers at a first aid training course she delivered  in 2005
Since well before 2000 Belinda was instructing in First Aid both at Senior / Provide First Aid plus Remote Area First Aid (RAFA) and is still instructing in First Aid.  The First Aid link on the BNSW website is for courses taught by Belinda on behalf of St John Ambulance.
The practical teaching methods of Belinda have helped to raise the level of First Aid knowledge within bushwalking clubs.  Hence, Bushwalking is now a safer activity from this training and her role as NavShield First Aid Officer.  Belinda Keir is a worthy recipient of the 2020 Chardon Award.
Keith Maxwell.
Learn more about the Chardon Award