Eurobodalla Regional Botanical Gardens Easy 6km walk, Dalmeny-Narooma Bushwalkers, Saturday 27th March 2021
A recent Dalmeny Narooma Bushwalkers Club walk was an easy 6kms in Eurobodalla Regional Botanical Gardens. The Eurobodalla Regional Botanical Gardens are set on 42 hectares of Mogo State Forest, adjacent to Deep Creek Dam. The site has not been logged since the early years of the twentieth century and visitors can appreciate many of the region's plants in a natural setting.  The Gardens has 8kms of beautiful public walking tracks which vary in length and gradient to cater for individual requirements and limitations.
It was a perfect day for the Club's walk during which Margaret Lynch explained what was happening in the Gardens.  After the recent bushfires a lot of work has been completed and more is planned. The walkers were delighted to see the Gardens regrowth including many young green wattles which protect the undergrowth floor and let other native plants thrive.
The Club members walked 5.5km and had a look at Deep Creek Dam, for which a new lookout is planned. At the end of the walk Bev Brazel thanked Margaret for the walk on our behalf. Some walkers enjoyed lunch at the Cafe, some bought plants, and others had their lunch in the grounds. Overall all participants agreed that it was a very pleasant day.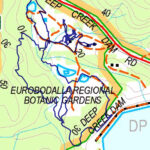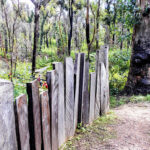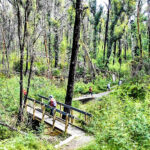 Our club of the month is Dalmeny-Narooma Bushwalkers who have been walking for 35 years. The Club meet at the Red Tractor, George Noble Park, Dalmeny, with a plywood tractor now used to represent the original to honour the Club's history.
Dalmeny Narooma Bushwalkers was established in May 1986 to encourage bushwalking as a pleasant group activity. The Club welcomes new walkers to join in and enjoy the beautiful bush and coastal environments of the far south coast of NSW.
Volunteer walk leaders offer various grade bushwalks twice a week around the local area of Eurobodalla and Bega Valley, as well as club camps in other localities and some social activities. The Club aims to keep its procedures as simple and as affordable as possible but also has a few rules to keep all walkers safe in the bush. Walks are grouped into 3 programs a year – Autumn, Winter and Spring – and are published on the Club's website.