Mt Keira Ring Track plus Robertson's Lookout, Illawarra Escarpment State Conservation Area 26 June 2021, Walk Report by Russell Verdon, Illawarra Ramblers Club
We walked Mt Keira ring track anticlockwise plus the extension to Robertson's Lookout. There were hundreds of steps to negotiate. Total Distance: 8 Km, Duration: 4 Hr, Grade: 3 Moderate.
Eight Ramblers registered for the walk located at Wollongong's prominent landmark Mt Keira.
We commenced walking at the civilised winter hour of 9am from Byarong Park. This park is on Mt Keira Road and adjacent to the Girl Guide Camp. The path leads up a short 300m stroll to meet with the ring track.
The cooler dryer conditions at this time of the year made for easy walking and minimal prospects for encountering leeches, often a feature in this area when the ground is damp.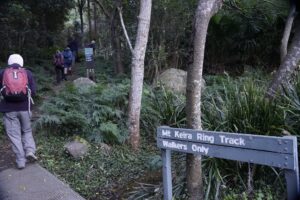 Once at the ring track we took the right fork to commence our anticlockwise circuit of the mountain. A lot of track improvements such as boardwalk installation and repair of steps has been completed allowing reopening of the ring track after past rock slides.
Walking another 400m brought us back to Mt Keira Rd where we crossed 20 minutes into our walk, to continue the ring track on its southern side.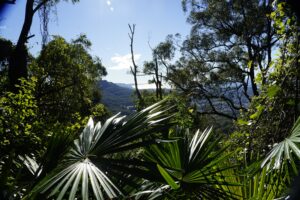 After another 400m the track touches the road again and we prepared to climb up the 100 odd steps to take us up to the next level section of the track through board walked rainforest then up another 296 steps where some nice views through the tree canopy to the north west were awaiting us, nearly an hour and a quarter into our walk.
We continued roughly 700m along the ring track reaching the junction where the path to Robertson's lookout commenced. Those still feeling energetic walked to the lookout and we enjoyed the views down the escarpment followed by some well earned morning tea.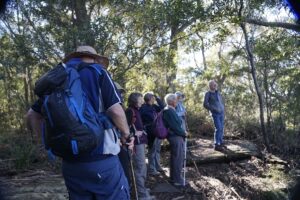 Then we followed the ring track downhill glimpsing the archery range located across from Byarong Park.
Not a lot in flower close to the track at the moment, but the odd glimpse of colour, and always good to marvel at the figs as we made our way back to the start at Byarong Park about three and a half hours later.
Thanks Anne for leading another great local walk!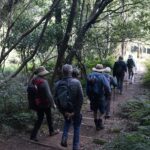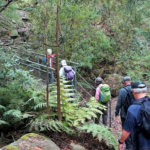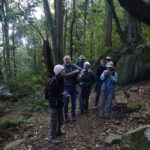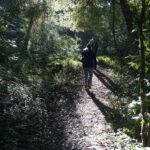 Our Club of the Month: Illawarra Ramblers Club
The Illawarra Ramblers Club is based at Wollongong and provides walking, kayaking, and cycling activities including trips away. We have a stable membership of around 250 friendly folk. Our activities are graded to suit members' abilities and are spread throughout the whole week. Located in the Illawarra we are close to and frequently access National Parks, coastal regions, the Illawarra escarpment, rivers, lakes and and the Southern Highlands. Try a couple activities for free before joining – hope to see you soon!