A typical lunch break, sitting under an overhang enjoying the view. This particular walk was on the Undercliff Track Wentworth Falls which is often done as a circuit with the Charles Darwin Walk and the Conservation Hut.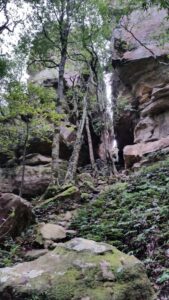 The Grand Canyon Circuit is a very popular family walk. If you only have time for one walk, this one is a good choice for a classic Blue Mountains experience.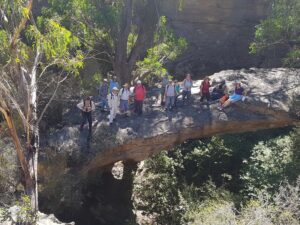 Dargan Arch in the upper Blue Mountains is an amazing natural sandstone arch in a gorge and an easy walk from carparking. To get to the bottom and under the Arch requires a little more effort but is well worth it.
Our November Club: Blue Mountains Conservation Society
The Blue Mountains Conservation Society (BMCS) has 330 bushwalking members who enjoy walking in amazing locations in the Blue Mountains and surroundings.
Blue Mountains Conservation Society has weekly bushwalks to suit a range of abilities held on Saturday, Monday, Tuesday and Thursday.  The Club's walk details can be found on the BMCS website where the activity subsection will invite new walkers. BMCS also has a monthly Plant Study Group.
October 2021 was special as the Blue Mountains Conservation Society celebrated its 60th Birthday.