Settlers Track Walk, Namadgi National Park,  1 November 2020 walk report by Luke Mulders, Brindabella Bushwalking Club
Setters Track was an utterly delightful walk led by Bill Gibson in southern Namadgi NP. The weather was cool with fresh wind and no rain. After a drive of 90 minutes from Kambah and a short car shuffle, our group of 12 happy walkers was underway on the 16 km round trip exploring the delightful huts in this totally stunning, unburnt section of Namadgi NP.
The walk was mostly on management trails which enabled side to side walking and lots of socialising. Recent heavy rains provided flowing creeks and waterlogged flats. There were some early wildflowers (billy buttons) and multiple pockets of sprouting mushrooms.
At the walk end, to cap off the beautiful surroundings, we were all treated to delicious banana/passionfruit cake and scrumptious fruit-mince tart. What a way to finish!!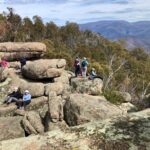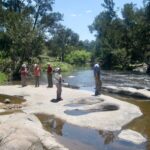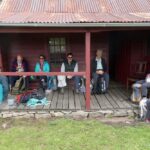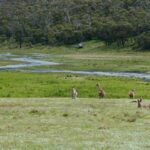 Our club of the month: Brindabella Bushwalking Club
The Brindabella Bushwalking Club (aka. BBC), is based in Canberra, ACT, has around 400 members, and offers a wide range of walking opportunities.  These include half-day and full day walks on Wednesdays, and full day walks on Saturdays and Sundays to suit all standards of walkers.
Bushwalks suitable for families with young children are also offered. Day walks usually take place in Canberra, rural areas of the ACT including Namadgi National Park, and nearby New South Wales. The club is a member of Bushwalking NSW and supports our Policy on Natural Areas.
Contact the BBC today to try out a walk, and discover the pleasures of walks around the ACT. You might also get some cake as a reward!
Brindabella Bushwalking Club