A recent walk that Southern Highlands Bushwalkers managed to slot between various lockdowns was a hike up Mt Jellore in Nattai National Park. It had been couple of years since the Club had been on the Mount Jellore Walk as it has only recently re-opened after the bushfires.
There is a short walk to a rocky outcrop where you get the first view of the mountain, then a steep drop to a creek, followed by a steep walk up to the fire trail that leads to the base of Mt Jellore. From there it is a zig zag track up to the summit. There is now a lot of waist high regrowth. The trig at the top had survived the fires and from the peak you can see Sydney on a clear day. We took the alternative route back to the start which also involved a drop down to a creek followed by a climb back out.
Nattai NP offers beautiful wilderness and rugged walking experiences. The park is conveniently located close to several towns and features spectacular scenery and landscapes including sandstone cliffs, rainforests and woodlands. Walks in Nattai NP include Couridjah Corridor, Mount Jellore, Starlight's or Nattai River.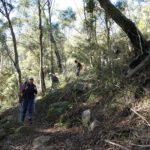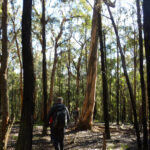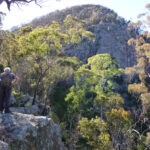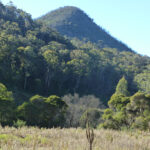 Our January Club: Southern Highlands Bushwalkers
Southern Highlands Bushwalkers is an outdoor activities club which develops friendships through exploring natural wilderness and National Parks. The Club endeavours to plan activities to suit the needs of both individuals and families. Club activities range from short day walks to overnight backpacking hikes and car camp out weekends. However, other special activities may also be included in the Club's programme.
The Club was formed in 1990 as the Highland Adventurers then underwent a name change to become the Southern Highlands Bushwalkers (Inc) in 1994. Since inception, membership has grown to about 60 and the members hail from as far afield as Palm Beach in the north to Goulburn in the south.
Southern Highlands Bushwalkers holds activities in the Mittagong, Bowral, Berrima area of the Southern Highlands of New South Wales. This area has a great diversity of flora and fauna and access to many national parks and forested areas. Most of the local area is undulating to steep, easy walks are very few and a reasonable standard of fitness is required.
The worn Sydney sandstone of the area offers some many interesting and beautiful windblown features with views from ridges into valleys, creeks and gullies. These offer glimpses of lush cool rain forest, eroded sculptured landscapes and stunning views down the valleys formed by the rivers such as the Nattai.
The club offers mostly day walks from moderately easy to strenuous with a range of overnight backpacks or car camps and the occasional trips to more distant destinations. Off track walking may be through thick and difficult vegetation which requires experience and good navigation skills. The Club also does coastal walks, mainly in the Illawarra as well as some on Sydney Harbour.
.