While walking volunteers mapped the northern section of Western Sydney Parklands a few years ago, they have recently mapped the Parklands southern section from Prospect Reservoir to West Hoxton. Walking routes are now available on their "Sydney Walking Tracks" online map.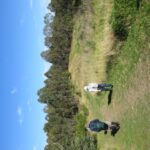 If you haven't walked the Parklands before, you are in for a welcome surprise!
South of Prospect Reservoir, the Parklands run along Devils Back Ridge with some wonderful views east to the City and west to the Blue Mountains including one of the best ridgetop panoramas in Sydney at The Beauty Spot.
Since 2008 the Parklands Trust have re-generated 13 square kilometres of Cumberland Plain bushland with 350,000 native trees and plants. Many of these plantings have matured into wonderful treescapes that provide shade on the bitumen shared paths network and walker-friendly slashed paths.  The Trust has signposted several walking loops but the walking volunteers map will keep you on track if you want to venture further afield and stay off the shared paths.
Now is the perfect time to walk this brilliant parkland!
If you have already downloaded "Sydney Walking Tracks" map onto your smartphone, tablet or PC these routes will automatically appear. If you haven't downloaded the map yet, it is available on the Walking Volunteer's website .
The Parklands Trust is running a "Get Back on Track Challenge" in conjunction with NAB Runwest. See here for details.