You know those boot-cleaning stations at the start of iconic walks?
They help to stop the spread of diseases, particularly Phytophthora Cinnamomi, that can fell mighty big trees.
One of the walkers on my most recent walk almost felled me with this brilliant idea:
He brought along his own spray bottle to spray everyone's boots at the start of the walk! A portable boot-cleaning station.
We all raised each foot behind us, like a horse being shod, and got a spray all over our soles.
And oh boy did my soul feel good to be walking so softly through that beautiful un-tracked rainforest!
This little trick is easy and cheap to do.
All you need is a spray bottle with either methylated spirits (70-100%), bleach (dilute to 25%) or F10 disinfectant solution.
The challenge
Will you be the sole cleaner for the walks you lead or join?
You'll be helping to preserve the beautiful places you visit, and probably also making some more souls feel good 🙂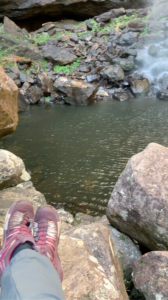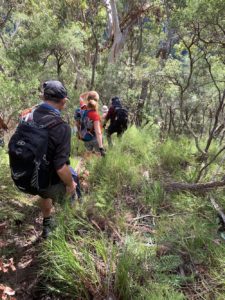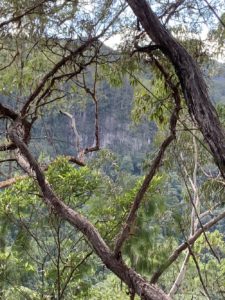 Happy, clean walking shoes at the iconic Protester Falls in northern NSW | Fellow walkers with clean boots | Beautiful Protester Falls country. Photos: Kirsten Mayer