Provide First Aid (1 day) and Remote First Aid (3 days)
The Provide First Aid course covers a broad range of topics to enable participants to confidently manage emergency situations and provide a first aid response to a casualty. It is suitable to both people in workplaces and members of the public who want training in first aid. The Provide First Aid courses detailed below cover all the normal content, but with an outdoors slant. The course accredits participants in the HLTAID011 "Provide First Aid" unit of competency. St John Ambulance runs standard first aid courses at locations throughout NSW.
Alternatively, Bushwalkers who attend an additional two days can gain a St John Ambulance Remote First Aid certificate. The course accredits participants in the HLTAID013 "Provide first aid in remote or isolated situations" unit of competency.
Note: the St John Ambulance Remote First Aid course is not the same as the BSAR Remote Area First Aid courses that BSAR previously ran before it joined with NSW SES.
Provide First Aid (HLTAID011 )
The Provide First Aid course (formerly Apply First Aid or Senior First Aid) has two components:
Pre-course learning. The pre-course on-line learning is a compulsory part of the course, and must be completed before you attend the face-to-face day. Theory content can be found on this link. This content will be in the theory assessment on the face-to-face day.
A 1 day face-to-face session. The focus of the practical day will be practical skills and assessment and a theory exam. There is no specific teaching of theory content on the face-to-face day – it is assumed all participants will have completed the on-line material.
Provide First Aid in Remote or Isolated Situation (HLTAID013 )
The Remote First Aid course includes all the Provide First Aid content, plus additional modules covering first aid in situations where medical aid will be delayed. This course is designed to meet the first aid needs of bushwalkers, climbers, canyoners, cavers, 4WD enthusiasts, outdoor/adventure instructors, wilderness guides, Scout leaders or people who work and live in remote and/or isolated locations.
Credit Transfers
Codes and course numbers for all St John Ambulance first aid courses have now changed
The course code for Provide First Aid is now HLTAID011 instead of HLTAID003
The course code for Provide First Aid in a Remote or Isolated Situation is now HLTAID013 instead of HLTAID005
People who have a recent (i.e. less than 12 months old) HLTAID003 or HLTAID011 Provide First Aid certificate can request a credit transfer for Provide First Aid in a Remote or Isolated Situation. This gets a discount in time (you don't need to attend day one) but not a price discount. Credit transfers can take time to arrange and need to be organised well before the course. Request a credit transfer form at the time of enrolment and return it promptly with evidence of your current HLTAID003 or HLTAID013 certificate. This will be verified by St John, and if a credit transfer is granted it will be attached to the class roll.
Instructor
Belinda is an outdoor enthusiast and can often be seen out in the bush, in wild places. She is also a regular Navshield First Aider. She is a member of St John Ambulance. In this particular course, Belinda places extra emphasis on treatment for typical outdoor injuries, particularly when medical assistance may be delayed.
Covid-19
The Provide First Aid and the Remote First Aid courses have resumed with Covid-Safe practices in place.
Class numbers are back to 18.
If possible, enrol with someone from your household. This will help greatly with infection control during practical tasks because you will be able to practice on each other
The online theory component must be completed prior to the day. Click here.
Lots of infection control processes will be in place. We expect to go through a LOT of gloves!
You will not be able to share any food at morning/afternoon tea or lunch, so please come prepared with everything you will need to eat for the day and bring your own cup. An urn will be provided for hot water so that you can make your own coffee/tea. The venue is not close to a shop.
Course Dates
Remote First Aid courses were temporarily suspended due to the Covid-19 Pandemic but have now resumed. Phone St John Ambulance Burwood Customer Service 1300 360 455 to register for a Provide First Aid or Remote First Aid  course.
3-day Remote Area First Aid courses and 1-day Provide First Aid courses will run at St Ives in February, July and November in 2022. This training will ONLY be available for participants over 18. Details will be posted soon 
Location
Barra Brui Training Venue, Hunter Avenue, St Ives. Entry is via a driveway in Hunter Avenue. The course is run in the second hall at the end of this driveway.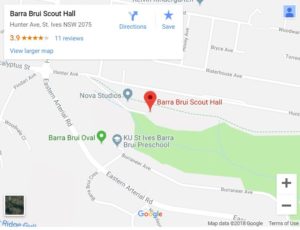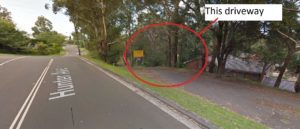 Kingsgrove Training Venue, Kookaburra Reserve, Shaw Street Kingsgrove.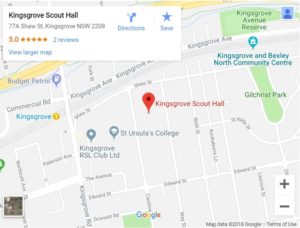 Register
Bookings for all classes  are managed by St John Ambulance Australia (NSW). Contact St John Ambulance Australia (NSW) by calling: St John Ambulance Burwood Customer Service 1300 360 455  and be ready to quote the Course Number for the class you wish to book into. Payment must be made at time of booking.
All participants must be 18 years or older. There will be NO exceptions to this – including a parent signing up with their child – and dates of birth WILL be checked along with photo ID on arrival. Anyone who thinks "I will turn up anyway" will be told to go home, contact St John Customer Service and arrange to enrol in a different course.
Before you register – you must have a USI Number. You will not be able to register for this course without a USI. If you have not got one yet, apply on-line at https://www.usi.gov.au/ before registering for the first aid course. It is free of charge and only takes a few minutes.
Course Cost
Provide First Aid $127
Remote First Aid (includes Provide First Aid) $250
NOTE: This is a discount price because our trainer is a St John Ambulance volunteer.
You are not enrolled in either First Aid course until full payment is made.
What do I Need to Bring to the Course?
There is not enough time during the 45 minute lunch break to go out and buy food. Please bring your own lunch and morning/afternoon tea. Venues at Kingsgrove and St Ives are not close to shops.
You will need to bring  a pencil/pen so you can make your own notes and answer the theory exam.
Photo ID with date of birth. All participants must be 18 years or older. There will be NO exceptions to this – dates of birth WILL be checked along with photo ID on arrival.
Wear comfortable clothes suitable for practical work on a carpeted floor.
Long hair should be tied back. Avoid jewellery and make-up.
Remote First Aid course only – on days 2 and 3 bring a pack with your normal weekend or day walk bushwalking gear (minus food) for use in scenarios. Suggestions for suitable equipment can be found here.
Note that you must have completed the pre-reading before attending the course. The pre-reading is available here: http://pfa.stjohn.org.au/
What Will be Provided at the Course?
Bandages and dressings
Tea/coffee/milk/sugar will be available for morning and afternoon tea.
Course Examination
The written exam (63 multiple choice questions) will presume you are thoroughly familiar with the course pre-reading.
Practical assessments (resuscitation and scenarios) will be conducted by the trainer throughout the day.
What if I don't pass? You will have six weeks to re-sit any of the three course components (exam, scenarios, resuscitation) at another St John course. This can be arranged by phoning St John head office in Burwood.
Who Can I Contact if I Have Further Questions?
Please inform St John when making a booking if you have any special needs that may require attention during the course. We will do our best to accommodate everybody. All personal information will be kept confidential.
You can find more information and contact details here: https://stjohnsnsw.com.au/
How Do I Enrol?
Phone St John  02 9745 8888 (or 1300 360 455, if calling from outside the Sydney Metropolitan Area). The maximum number of students for each course is 18. The best way to make sure you don't miss out is to register and pay early. You do not have a confirmed place in the class until you have registered and paid in full.
NOTE You must have a USI number before you commence the registration process. Once you have your USI number, click on the link above and complete the registration details.
When you complete the registration process this will generate an automatic email confirming your registration. If you don't get a confirmation email, let St John's know.
Refunds
Please carefully consider your commitment to learn First Aid at this course. If you need to withdraw from the course, the refund St John can give you will depend on when you notify St John of your intention to withdraw.