NavShield – Teams from clubs of BNSW achieved good results in the 29th NavShield held at Marramarra National Park on the edge of Sydney.  Over 400 persons participated in this annual remote area map and compass navigation training event for emergency services.  Bush Search and Rescue NSW (BSAR) would love to accept more BNSW Club teams into their great navigation event that is designed for all levels of navigator fro m beginner to very competent.
NavShield 2018-  Personnel from SES, RFS, VRA, NSW Police, NSW Ambulance plus bushwalking clubs all participate in a friendly atmosphere at NavShield in either the ONE day or TWO  day event.
June 25th & 26th 2018 will be our 30th NavShield.  Mark your diary now but be aware that NavShield is addictive.  This year BSAR handed out 25 year Attendance Awards!
First Aid – As well as encouraging navigation skills, BSAR would like to encourage First Aid skills in bushwalking clubs.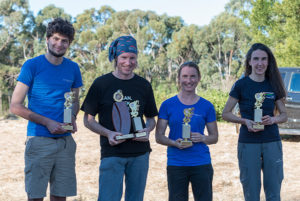 Shortly, registration will open for November courses in St John Ambulance "Provide First Aid" (one day course) or "Remote Area First Aid" (RAFA a three day course).  All enrolment and FA course details will eventually be at the BSAR website – www.bsar.org.au  Be quick; don't wait to enrol in these popular courses.
Take time at this website to explore information on bush safety, distress beacons (Personal Locator Beacons – PLB), GPS receivers, outdoors communication, NavShield results plus how you can be part of that great community service of Bushwalking NSW, Bush Search and Rescue NSW.
Guest Author: Keith Maxwell