Hidden Sydney – Balmain, Monday 18 July 2022, Col Prentice and Trevor McAlister
A total of 25 Bush Club participants discovered Hidden Sydney while walking from Circular Quay to Circular Quay via Balmain and the ferry. Participants benefited from the combined expertise of two experienced leaders/historians while walking around this most interesting of Sydney's suburbs. Col Prentice lead the morning session and Trevor McAlister lead after lunch.
Our walk was mostly on pavement and explored places in Balmain that we probably hadn't been to before while alerting us to traces of history that still remain visible today. There was a brief commentary and plenty of opportunity to stroll and reflect on Sydney's past.
Highlights of the walk included a widows' walk, a tram drivers' dunny, a policeman's out-house, a house of a former NSW Premier (he sired 17 children and married at 80; can you guess who?), a cross harbour tunnel built in 1924, a place celebrated for the first game of Rugby League played, a spectacularly fine day, a sea voyage, a bus ride and a happy, outgoing and generous group of people. All this and more could have been yours if you had taken the opportunity to join us. And remember, twelve panes of glass equals one Georgian cottage and regular exercise equals longevity. We all look forward to seeing you next time!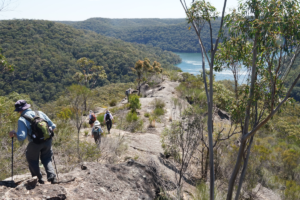 The Bush Club started on 19th September 1939, mainly as a result of the initiative of Marie Byles and Paddy Pallin. Marie was concerned that the rather rigorous tests to obtain entry to bush walking clubs existing at the time excluded genuine lovers of the bush who were unwilling or unable to pack walk and camp out overnight. Marie believed that the essential qualifications for members should be a genuine love of the bush, a desire to protect it and a willingness to extend the hand of friendship to other bushwalkers.
Paddy had similar motivation in joining with Marie to form the club. He hoped the club would comprise walkers of moderate ability who would not be forced to indulge in camping if they had no wish to do so. Paddy was also strongly of the view that if people became bushwalkers they would also become lovers of the bush and would join the ranks of the conservationists seeking its protection. These thoughts remain the main aim of the Bush Club.
Today The Bush Club organises fun activities in the outdoors. From easy strolls to the adrenaline tough walks; from lakes to mountains; and from the city to the magical bush. The Club believes that getting outdoors and enjoying the wonderful bush around us is a great boost for the body and soul.
Joining The Bush Club is a great way to meet new people and make great friends. Club members are a diverse and friendly bunch who share experiences, learn new things and help each other along the way.