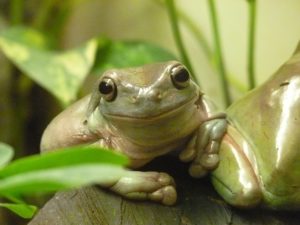 If you'd like to enjoy a swim on your bushwalk, come prepared to keep the water clean for our frog-life by having your skin free of insect repellent, sunscreens, soap and fragrances.
This summer, many of our walks will involve swimming holes, creek crossings, canyoning, kayaking and lilo trips, so we're bound to come close to our froggy friends, although you might not spot them.
They're also very sensitive, and absorb chemicals through their skin to their own detriment.  The Fleay's Barred Frog are one example of a frog species threatened almost to extinction attributed to sunscreen and insect repellent.
Amphibian skin is unique, being physiologically active and able to absorb air, water and electrolytes. We don't hear much about frogs – experts are still puzzling over their unique anatomy.
Chytridiomycosis is one example of a disease that affects amphibians worldwide, but how it does so, and its true impact of frog populations is not certain. Some species of frogs seem unaffected by such pollution while other species have been declared extinct.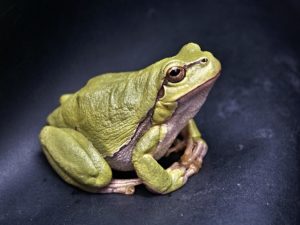 Before we take on the outdoors, we can think about the skin products we intend to use. Even skin products and cosmetics that are biodegradable with natural ingredients, while certainly a good thing, are not environmentally friendly to our frogs.
Instead, we can take care of our skin and the environment by using a wide-brimmed hat, or a cap with a neck flap. Take a long-sleeve rash guard if you're susceptible to sunburn while swimming.
Also, look at alternative technologies for keeping mosquitos, ticks and leeches at bay such as doubling up on socks, use of gaiters and long-sleeve, loose fitting shirts.
Insect-repellent clothing
Insect-repellent clothing does not provide complete protection on its own, and begs the question – will it affect our environment? This technology uses a pesticide called Permethrin, which has been known to come out in water. Tests have shown the pesticide rapidly breaks down (rather than clump together like other chemicals), and is biodegradable in 1-16 weeks – but it is highly toxic to insects and fish.
Before we get lost down the rabbit hole, it seems the main thing is we be mindful with the 'slop' part of 'slip, slop, slap'. Think twice about sunscreens or insect repellent before you dive into the water this summer, and choose your walks wisely!!
Sources:
http://www.alertdiver.com/Sunscreens-Coral-Bleaching
http://www.wildswimmingaustralia.com/sustainable-wild-swimming/
http://emag.bushwalk.com/BWA201612.pdf
https://www.environment.gov.au/system/files/resources/0cc789ea-5551-4d6f-ace3-5952c9cd0a5f/files/tsd06fleay-barred-frog.pdf
http://www.environment.gov.au/system/files/resources/279bf387-09e0-433f-8973-3e18158febb6/files/c-disease_1.pdf
http://healthcenter.indiana.edu/answers/insect-precautions.shtml
https://www.epa.gov/insect-repellents/repellent-treated-clothing
http://www.environment.nsw.gov.au/threatenedSpeciesApp/profile.aspx?id=10537