Coffs Hikers climb Tuckers Nob, Orara West State Forest/Bindarra National Park, March 2022, Yvonne, Coffs Hikers
Tuckers Nob is a local landmark, with a great view to the Dorrigo escarpment, and the Bellinger Valley to the sea. In March, walkers from Coffs Hikers set off from the north side of the mountain following Frontage Creek up steeply through Orara West State Forest on logging tracks.
Close to the top is a track labelled on the map as "That Steep Bit", and it is certainly steep! The forest vegetation changes as we approach the summit (874 metres) and the view opens up. There is a geocache hiding here.
After a rest on a rough hewn bench to enjoy our lunch, we start cautiously down that steep bit again, stopping on the way to admire Fig Tree Falls in full flow after rain. Then it's back to the cars to clean off the mud and remove any free passengers (aka leeches).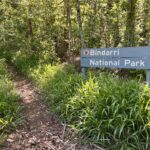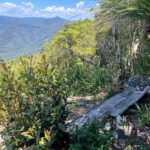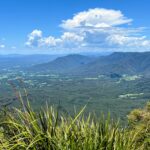 Coffs Hikers is a new Bushwalking NSW club in Coffs Harbour on the mid-north coast, with a fast-growing membership. The Club is spoilt for choice with many national parks, state forests, coastal walks, creeks and the great escarpment offering many opportunities for wild explorations! The Club currently offers day walks, overnight walks and camping, but hope to offer cycling and kayaking in future.
In the Club's first six months, 84 club members have enjoyed 321 outdoor experiences together on 39 activities. These have included soggy off-track in the jungle, steep climbs to lookouts, camping at Gibraltar Ranges, map and compass training and gentler coastal rambles.
For more information visit the Club website or Facebook page. In addition Coffs Trails publishes routes of many walks in the Coffs area.