Three Capes Walk Tasmania, 13-16 September, Victoria Mcadam
Where would we be without our Elly and Joby who organised everything..
All 16 of us very happy traveler's
say thank you.
Wouldn't happen without all your effort.
We arrived in Hobart a little late, a slight moment of concern was had that the hire car company might be closed, we were reassured that the 'bus' was still in the parking lot and was waiting for us,
the kind gent at the desk had waited.
We mounted a search..
That parking lot was at least 3 million acres!!
Possibly more.
It was cold..
Right at the far end sat the bus!!!
We piled in..
Eric at the wheel and with Karen as the navigator we found our accommodation with ease..
the next day we proceeded to enjoy some shopping,
Some folks went to MONA.
I had no clue what MONA was until the
recount of the experience was given the next day with slightly graphic details of the images seen..
Others saw the botanic gardens.
2 lovely days in Hobart, scrummy breakfasts at the AWOL Cafe..
Seafood at the dock.
Mt Wellington and Mt Nelson
After strategically packing the bus the next day to start the drive to Port Arthur and the walking adventure, loading the humans in the bus who had to sit in the back first then filling every available space with back packs and suitcases..
We were on our way..
Like a very large can of laughing sardines..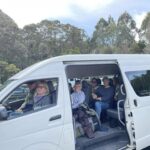 This would be where I say this bunch of people are amazing,
What a pleasure to spend a week in their company.
Eric as our fearless organiser and driver,
May I say Eric works well under the pressure of having a bus full of sardines laughing and talking..
The walk began,
After a rather
zippy, splashy, chilly bracing,
boat ride we were dropped off in the middle of the freezing ocean…
Ok..
we only had to paddle to the beach but it was fresh up to the neck…
Ok up to the ankle..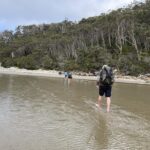 Along the track the cabins were
Surveyor hut, Monroe and Retakauna,
Each camp site was fully equipped with a park ranger with a story, a poem or a slight horror story of an adventurer having a mishap to 'entertain' us..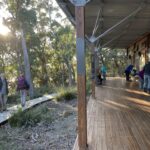 Some of the track was set out so the walkers reach a viewing point, however the walk itself was as grand as the destination..the glimpses along the track of the rugged coast, the flowers, massive gum trees, the mosses, rain forests and the tree ferns, the amount of work put into the 20 million dollar walkway is evident under every footstep.
All the colours are stunning, together with an occasional sighting of a beautiful bird happy days were enjoyed.
The showers on the second night saw the rather distinct smell leave us.
I'm sure I saw a possum take flight
( I know possums can't fly..
but this one had a go)
Off it went..
when a certain walker went in for a scrub..no names mentioned GH
A bucket or two of deliciously hot water hoisted up with a rope within the outdoor curved tin shower room.
Sublime!!
One of us might have snuck in an extra shower the next day….
Mwahahah
A successful walk for everyone..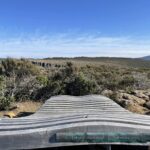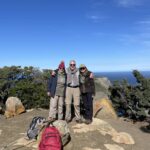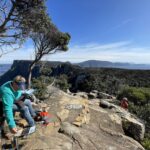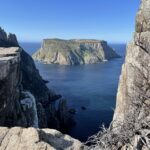 Walking is a great conversation starter, to chat as you walk is a great way to get to know each other, hearing laughter up ahead is always a good sign.
Voices echoed words of delight at the sight of the views.
I'm sure we were all aching at the same rate by the end of the 4 days and some had a blister or two but we laughed, played cards and ate not very nice packet food..
life is so good.
As Fortesque Bay neared and the end of the walk came into view through the serious rain our bones were cold..
A night at The Fox and the Hound saw us scrubbed up and ready for dinner ..
Another night back at Hobart for diner at the oldest pub in Australia..
The bus was delivered back to the starting mark, undamaged and with no odour of smelly socks or soggy backpacks..
To have such a beautiful experience I consider us all to be incalculable lucky.
Mudgee Bushwalking and Bike Riding Inc.'s current membership is over 70 with several Life Members and Junior members are always encouraged to join. There is a motivated committee to assist in the daily Club running's but the organisation is very much a shared responsibility. Most riders also walk, but it doesn't necessarily happen in reverse. About 60% do both activities.
The group meets quarterly, with the AGM held in June- 7pm start. Quarterly Meetings have a 7:00pm start. The Wednesday evening begins at 6pm in a local hostelry, where as many as wish meet for dinner. Then everyone adjourns to the Presbyterian Church Rooms in Mortimer Street, where they are joined by others for the formal meeting and a light supper.
Members volunteer to organise individual events for the coming three months, be it walks, rides or camping weekends. The committee form the co-ordination and oversee the activities to ensure all guidelines are met. Whatever happens, there will be something to do during many weekends. The first and third Sunday of the month have been allocated for an activity.
Riders also meet on Tuesday and Thursday mornings in Mudgee and on Mondays, Wednesdays and Fridays in Kandos/Rylstone. Walks and rides are usually graded according to difficulty. Camping weekends are organised according to the time of year and climatic conditions. Many walks are relatively local, but some venture further a field. Longer bike rides are ably supported by non-biking members who provide back-up vehicles.
Members come from across the whole district as far north as the Totnes Valley and, in the south, from Rylstone and Kandos, Gulgong and Dunedoo. Hopefully there is always a good balance of locations for both walks and rides. Where possible, and if preferred car sharing helps with the economic use of transport.
There is no expectation for members to attend all events. People join in as they are able. The aim is to provide a program of events which is all inclusive. On occasions some members may be taken out of their comfort zone through a more challenging walk or ride. This is made possible by the brilliant support and encouragement of other more confident participants.
This year the club is celebrating over 30 years of walks and socials and meetings – (with around 15 members enjoying the "outback" for the past week)- alas 4 returned with Covid. We still have some of the inaugural members that are a true inspiration to us all. A few are now "Life Member's" & do not participate unless we sneak them out of their retirement home or living quarters for a BBQ or social gathering
This week the Club purchased another piece of equipment – a GARMIN GPS 66i. We are quite proud of our new toy and we have been spending some time figuring it out! This compliments all the other Club devices ie PLB, Walkie Talkie, Defib, 2 fully outfitted first aid kits, – you never can be too sure or safe these days.
To further compliment the equipment we are hosting (club style) an "Education Day" for members where we dig out the maps & compass and back to basics and all equipment and let the experienced do a show & tell for the less or new keen members.
At our AGM in June we were successful in obtaining a keen new President Victoria Mcadam, who is interested to learn all the ropes and to encourage members along the way.