Help Reopen the Corang Lagoon Wog Wog to Budawangs Walking Track!
The historic sixty year old walking track into Corang Lagoon from Wog Wog to Budawangs has been closed.
Local bushwalkers would like it reopened and are arranging a "Reclaim the Lagoon Walk" on a new legal northern access route on Monday 2 January 2023. All clubs are invited to send a small bushwalking group to represent your club and to celebrate the 63rd anniversary of this historic walking track.  Club leaders are requested and will be provided with the detailed information and a map.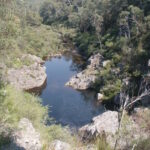 Some background information to the track is provided below.
Budawangs Access Alert ….. Keep Corang Open!
Anyone in Canberra or the South Coast who has done a little bit of overnight bushwalking will have heard of Corang Lagoon in the famous Budawangs wilderness near Braidwood. It is THE place to go especially in summer. Perfect for beginners it gives the visitor a real sense of wildness.
The three hour walk along an unsignposted but easy to follow track is just enough to magic you away from civilisation. Upon arrival the crystal clear waters are surrounded by mountains and undisturbed forest. There are no buildings or roads or car parks or power lines to be seen. The only sounds are the cascading rapids and chortling birds. It is an achievable wilderness par excellence.
But all this is about to change.
For more than sixty years people have been walking to Corang Lagoon and I have been fortunate to have been there maybe twenty times. But to my dismay when I visited recently the track was blocked by a newly erected fence and a prominent sign saying Private Property. Keep Out. No Trespassing. This is not the first time bushwalkers have been hampered in trying to access the Budawangs.
In the 1970s some bushwalkers had to purchase a lease near Corang Peak to save it from land clearing. In the 1990s the route to Corang Peak and Lagoon had to be reworked past some private property and the Wog Wog campsite was established to assist with this. In the 2000s a landowner tried to block the route in via the Endrick River but quick thinking by some bushwalkers prevented the Government selling off a narrow strip of land that was the only official right of way. Access has also been hampered from Sassafras in the north with that route also currently in question.
But this came as a complete surprise. I, like many others, was under the impression the whole Corang area was part of Morton National Park. Worryingly this time the access issue does not involve walking along a road but rather walking in undisturbed wilderness. Initially I thought it was a prank when I almost fell over a fence erected across the well defined walking track but another hundred metres further on was another sign and then another. And then finally when I arrived at the beautiful lagoon itself there was another sign right in the middle of the campsite.
Some walkers will know that there is an alternative return route back to the Wog Wog Car Park. Off track and requiring a little bit of navigation it heads downstream past some spectacular waterfalls, hand railing an historic sluice tube and aqueduct. It passes through tall wet forest, then along an open ridge and past scenic pagodas which provide expansive views.
But access to all this is now at risk too. For high up on the ridge line, to my dismay, just where the alternative walking route has been for decades is a brand new one room house. Painted shiny white it sticks out like a sore thumb with no attempt to let it blend in with the bush. Even worse there is now a driveway several kilometres long snaking its way to within a few hundred metres of Corang Lagoon and the Goodsell River. And signs that another dwelling may be under construction. In 2015 when I visited this area there was no sign of any development at all.
How can this be? For generations thousands of walkers have been visiting this magic spot in what everyone thought was a National Park. A close inspection of the map however shows a park boundary with a major incursion into it. I had always thought this was crown land and assumed that eventually it would become part of the National Park. A bit of research seems to have revealed that it was in fact vacant crown land until 2011 when, for some reason, it was sold by the Government to a private investor.
I wonder if anyone can shed some light on this? Is there anything that can be done? About the access? About the closed decades old walking track? About the beautiful campsite loved by so many? About the serenity of the Pool? About the shiny new house in the middle of the wilderness and about the weeds that will arrive on vehicles on the driveway?
And all this in close proximity to Coran Lagoon and not far from the walking track to Corang Peak, Admiration Point and Monolith Valey.
If, like me, you are concerned to learn more please register your interest by joining the Facebook Group Keep Corang Open! or the Instagram Group Keep Corang Open! we will keep you posted.
David Poland 2021. For more information please contact David on 0407 011 737 or 6247 8785.