On a sunny day in spring 2021, a small group of keen walkers met at the Botanic Gardens in Coffs Harbour to discuss setting up a bushwalking club. But how do you set up a club?
This is our story. We hope sharing will help others on their journey to start and manage a bushwalking club.
Start with why, then how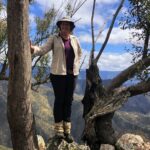 We began by discussing our values, which determined the form the club would take. We agreed to set up a not for profit incorporated association and to affiliate with Bushwalking NSW Inc. This provides legal protection and insurance for our volunteer and members, allowed us to open an association bank account and get an ABN (useful for grants), and to benefit from knowledge shared within the NSW peak bushwalking organisation.
The minimum number of members for an association is 5 – we met that. Next we needed a constitution, and that required making some early decisions. For example, did we want to set a maximum period for serving on the committee to prevent burn out and stagnation? What membership classes were we going to have, and could children be members? We sought input from other clubs, and opted to keep it simple.
Once the constitution had been debated and finalised, our first committee was formed. The newly appointed Public Officer was given authority to go ahead and lodge with Fair Trading, incurring our first expense. Two days later, our application was accepted and Coffs Hikers came into existence. Our domain name was registered, and work began on a website.
We went to the bank to open an account and also set up a Business Account with PayPal so that we could support online payment of fees. PayPal charge of course, but they manage all the risk around credit cards and compliance, and we were comfortable paying for automation that eases the burden on our volunteer Treasurer. We set our annual membership fee at $35, to cover insurance premiums and fund the website, with a little to spare. Our first ten members signed up and paid their fees.
Once again, our group met at the Botanic Gardens to discuss our first activity program. Talking about walks is way more fun than constitutions! The final step in the process was completing the forms for affiliation with Bushwalking NSW Inc, and paying our first insurance premium. This was done in late November, just in time for our first walk on 4th December 2021.
So, there you have it – from initial discussion to incorporation, affiliation and first activity took us two months.
Automation reduces administration
We like to walk, but we're not so keen on admin. We would rather not have to nag people to pay fees, or update membership registers, or, as leaders, have to remember who signed up for a walk and who cancelled and how many are coming now and what is that new person's name again? Fortunately, we had a committee member with website skills.
The aim was a modern, low cost, mobile-friendly website that was easy to use for members, volunteer leaders and committee members. Before digging into the details of the technology used, let's begin with some thoughts on how to simplify website building.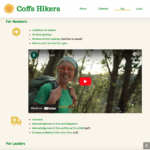 We built what techies call a "minimum viable product". This avoids getting bogged down in committee discussion, designing an overly complex solution. We got a basic site up quickly, and learnt from that. We also tried to avoid reinventing wheels. For example, we link to Lotsafreshairs excellent videos and the Bushwalking Manual, no need to write your own.
Lastly, it's important to be flexible with club management processes. For example, fees can be charged on a fixed calendar year (January to December for example, with discounts after July, and further discounts for families and concession cardholders). Or they can be like a gym membership, on a rolling 12 months from the date you sign up, with no discounts, auto renewed. For us, the second option was simpler and easier to implement.
Let's get technical
As a new club with hardly any money needing a website fast, a bespoke outsourced solution was never an option. We considered club management software such as Wild Apricot, but were put off by the high price and concerns that it attempts to do everything without excelling at anything.
So, we went for a mix-and-match approach based on WordPress, combining different tools that play nicely together. WordPress iswell-known and widely used, development skills are readily available, and it is easy for volunteers to use. While we had the luxury of a member volunteering her time, we wanted to ensure others could maintain the site in future. Cost was important too: WordPress itself is free, with a large market of competitively priced plug-ins.
Before we could start building a website, we needed hosting for our website and chose Siteground as they have servers in Australia.
The website took about two weeks to set up and test, ready for opening our doors to new members. There was some maintenance work in the first few weeks of operation, as we refined our content and processes, but ongoing website maintenance is now light.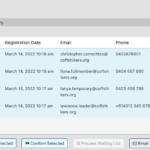 MemberPress provided us with a login system and the ability to restrict content to members only. We set up two membership classes (Trial, Full members) with different fees. We created an online membership form with a digital acknowledgement of risk and connected it to PayPal. We also provide an option for payment by bank transfer, but hardly any people have used this.Members can update their information, if their address changes, for example. Reminders are automatically sent when membership is due for renewal. We created roles for Committee Members and Leaders, who have access to extra functionality.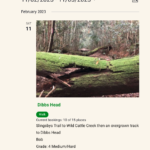 We installed The Events Calendar to manage our program of walks, cycling, kayaking, meetings and social activities. A calendar overview is available to the interested public as this encourages new members to join, but only members can see details such as leaders contact information, meeting place and time. We use Registrations for The Events Calendar Pro to manage online bookings, cancellations, maximum group size and a waitlist, an attendees list, walk reminder emails and more. A pre-filled sign on sheet is emailed to the leader the night before the activity, which makes it easy to remember who is coming!
We useMailerlite to publish a monthly newsletter and for occasional surveys. We could add a member forum to the website, but chose to use a public Facebook page plus a private Facebook group instead. Both the newsletter and Facebook have been instrumental in building community.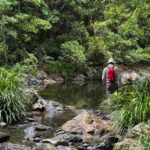 We also set up a shared Google Drive for storing documents and working collaboratively on committee meeting minutes and finance spreadsheets, for example.
We have begun work on a database of activities which will be available to all leaders in our club. We hope this will answer the question "but I don't know any good walks to lead" and encourage our experienced leaders to share their detailed knowledge of local trails and campsites.
What works for you?
There are many paths to systems to support a club and build a community, these were our choices. We'd be interested to hear what has worked for other clubs, and your ideas for the future. We are still learning and improving!
Guest post by Yvonne Everett, Coffs Hikers President
Let us know what works for you here