Guest Post by Keith Maxwell
It's almost the time of year for the annual Chardon Award.   The Award recognises those who have made a significant contribution to the bushwalking movement. However you may be wondering, who inspired the Chardon Award?
The Award is named after Harold James Chardon. The bushwalker we remember for the "Chardon Award" was born in Queensland on 7 May 1905, the child of Alice Jane (Tatton) and William James Chardon.  Early on they settled in Bondi. Harold Chardon would become a surf life saver, a 'tiger' bushwalker, public servant and conservationist. In 1932 he played a pivotal role in the foundation of Bushwalking NSW (BNSW) and the Blue Gum Forest campaign.
In 1922 Harold started a career in the NSW Public Service as a Junior Clerk, Stamp Duties Office.
Bondi must have been a great place to grow up as he became a strong swimmer and life saver but also showed an early interest in organisation.  On 29 January 1926 Bondi and North Bondi Surf Clubs held a combined surf carnival.  Harold was the Secretary of the Bondi Club.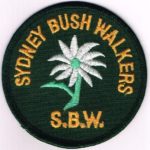 Harold became keenly interested in the outdoors and in 1929 was appointed an Honorary Ranger in Wild Flowers and Native Plants and in 1930, Birds and Animals.  All this as part of the newly formed Sydney Bush Walkers (SBW – formed October 1927) where for a short time in 1928 he was the Club Secretary.  It was an exciting time to go bushwalking.  So much of what we now take for granted around the towns of the Blue Mountains was being explored and mapped. In stamina he was able to join the SBW 'tiger walkers' who would cover big distances by travelling both light and fast.  With Wally Roots (a.k.a.Orang Utan) he joined another 'tiger' walker in the first bushwalker descent of Orang Utan Pass into the Grose Valley.  In 1930 he was invited to join the exclusive Mountain Trails Club.  In the lower Hollanders River, catchment of the Kowmung River, is the granite "Chardon Canyon".
Yet in 1931 dark clouds were forming in the Grose Valley – Blue Gum Forest seemed to be in the gaze of an axeman.  Harold as SBW President was part of the delegation that negotiated with Mr Hungerford of Bilpin who was prepared to sell his rights in the forest for £130 (down from £150 but probably in excess of $15,000 in 2020).  Harold was then one of four SBW members as part of the subsequent Blue Gum Forest Committee.  The Blue Gum Forest Campaign is a long story where many groups had to come together, especially the bushwalking clubs.  As a respected bushwalker (and a past SBW President) he called the bushwalking clubs to a meeting on 21 July 1932.  From this meeting the "Federation of Bush Walking Clubs of New South Wales" (now BNSW) was formed.  Harold was very much the delivery man to BNSW as the meeting Secretary.  (This is why the Chardon Award has been named in his honour).
"Wilderness" was a term in the future of 1930s Australia.  Myles Dunphy formed the "National Parks and Primitive Area Council (NP&PAC)" to push for new National Parks.  In August 1934 the Katoomba Daily produced a supplement from Myles Dunphy that included a proposal for a Greater Blue Mountains National Park.  Harold as Chairman of NP&PAC assisted in preparation of this supplement.  (This dream was mostly finally realised in 1976 with the creation of Wollemi and Southern Blue Mountains National Parks.)
1936 was a busy year.  In Bexley Harold married fellow bushwalker Win (Winifred) Lewis.  Then, in October he was part of the first (informal) search by the Search and Rescue Section of Federation – now SES Bush Search and Rescue NSW.  It was an extremely strong party of eleven bushwalkers who entered the Grose Valley almost as a "who's who" of bushwalking.
During WWII Harold served in the Second A.I.F. (army) in New Guinea as Chief Signals Officer Lines of Communication.
Post War Harold continued to rise up the Public Service fulfilling valuable roles in Workers Compensation and in 1958 as an Accountant moved from the Department of Labour and Industry to the Department of Agriculture.  He retired from this Department on 6 May 1965.  His final years were spent at Connells Point on the Georges River and he died on 26 June 1993.
Harold James Chardon is remembered as a surf life saver, strong bushwalker, public servant, ex-serviceman, strong conservationist and a guiding hand in the formation of BNSW.  BNSW is proud to have an award named in his honour that recognises outstanding bushwalkers.
Guest Post by Keith Maxwell