3 day hike, Barrington Tops NP, February 2022, Watagan Wanderers Bushwalking Club, Report & Images David Whyte
This hike was meant to be down Paterson's Gorge but the predicted rain made that walk too dangerous. A nice alternative in the same area, and one we have done before, was to walk to Selby Alley hut and do a day walk from there around Edwards Swap.
The walk starts up with a steady climb up the Corker trail. The tall trees of the ancient beech forest add a lovely atmosphere to this walk and in summer offer a lot of shade. We have done this walk in winter where you are enclosed by mist. The lunch time break offers a magnificent view of Carey Peak in the distance which was our destination the next day
As we reached the top of the Corker track and it started to level out, we kept our eye out for a special dead tree marking the slightly hidden track to Selby Alley hut. It felt magical as we followed this secret path through dense forest, and then spotted the hut sitting just across from a beautiful stream that was softly meandering through sub tropical rainforest past the hut to nearby Basden Falls. We arrived at the hut mid afternoon giving us plenty of time to set up our tents and collect firewood. Despite being summer it was quite cool.
Leaving our tents up we set off the next day for a 20km walk around Edwards Swamp stopping at Careys Peak on the way. The clear morning offered stunning views over the valley below and the ridge that the Corker Trail follows. We spotted a few feral horses during the day and were saddened by how much broom there was growing; The Aeroplane hill track was quite dense in some areas. We cooked our dinner out in the open next to the fire and during the night the rain started to set in. We returned to our cars the next day via the corker trail in mist and listened to the sounds of lyre birds as we descended.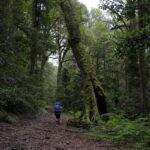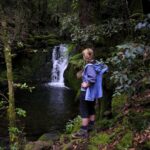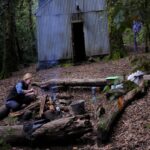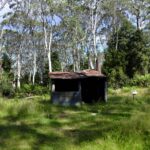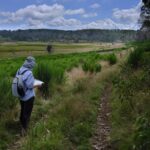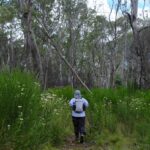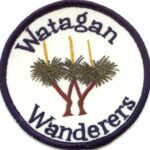 The Watagan Wanderers was established in the early 90s to meet the needs of people in The Central Coast, Lake Macquarie and Newcastle areas. It has an active program of providing day and multiday hikes over most of Australia and overseas. Though, since Covid the walks have become much more local. The club also has keen cycling, kayaking and abseiling groups. Our program can be found on our website.